Iraland Ramano is a teenager who has had a tough life.  Not only has she gone through family drama and the normal teenage growing pains, she's done it while battling cancer.  She's had a bone marrow transplant, tumors removed from her hip, several feet of her intestines removed and her kidney.  At one point, she lost all her memories from 2012.  Iraland has suffered constant seizures and on one horrible night, her heart stopped… for 35 minutes.
Luckily, Iraland has some wonderful online friends (and a twin sister, of COURSE) who keep everyone updated on her roller coaster condition on a Facebook page called Lift Up Iraland.  Unfortunately, due to a lot of drama and people accusing her of being fake, Iraland has had to delete the Facebook page.  She also constantly threatens to delete her personal Facebook page and disappear to die alone if her online friends question any part of her story.
So, yeah, this is fake.  The problem is that Iraland's online friends are completely convinced of her innocence  so I'm going to really go to great lengths to discredit this one.  The person behind "Iraland" has her friends held hostage emotionally.  They're afraid to even examine the possibility she might be fake because Iraland gets very upset when questioned and they don't want to unhinge a poor dying cancer patient.  Most of her friends are very young teenagers, so that might explain some of their hesitation.
Here is Iraland when she was intubated after having hallucinations about spiders and stars and developing an infection.
Because Iraland has told her friends that the picture was stolen from HER and dated 2009 in the blog linked, here are links to the Way Back Machine showing that blog page in 2009.  That's pretty hard to fake, especially since Iraland claims that picture was taken in November of 2012.
Apparently, Iraland's nickname is Liz, a name apparently given to her by a foreign exchange student at her high school.
Here's a picture from the real Liz's blog showing this same crowd cheering her on.
This is another case, just like the Abby Boudreaux hoax, where an online friend is lying to people she's met on the internet and having them update her prayer page.  I've talked to several of Iraland's friends and all of them are devastated by the illness and inevitable coming death of their friend.  Some have made awareness bracelets to pass out at their high school.
They've also made prayer candle bags with Iraland's name on them to raise awareness of her long fight.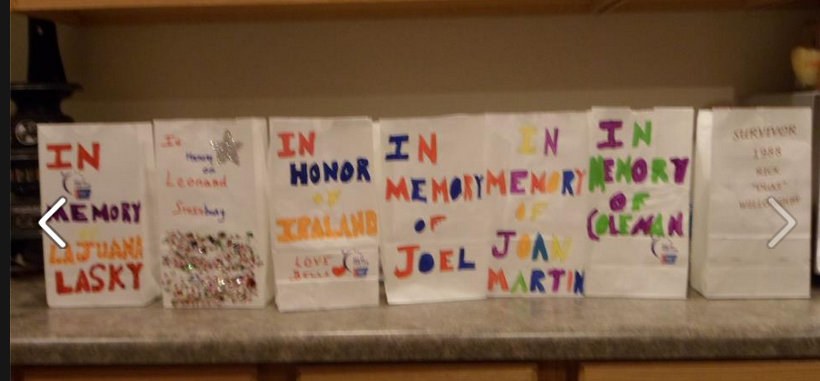 We do know the person who is behind this.  I'd like to hear from her before I put her name online.  Please email me at warriorelihoax@gmail.com.