Casey Bowman has been through hell and back.  She lost a baby to SIDS and then watched her beautiful three year old son, Reilly, die of Chronic Myelogenous Leukemia.  After Reilly's death, Casey became pregnant with twin boys but lost them to a miscarriage.  Her surviving son, Langston, became a selective mute after the death of his brother (except for occasional therapy sessions when he screams out "YOU KILLED HIM!" to his poor mother).  Langston also nearly died from meningitis, a terrible illness that still managed to help him regain his ability to speak.
Yeah, this one is a fake too, and it's pretty elaborate.

The day after Reilly died, while still hanging out at the hospital, devastated, Casey decided to begin a blog.
From there, the blog goes into details about the Bowmans mourning their son, along with his dear friend Kellan who passed away right after Reilly.  Each Bowman struggles with their private grief, and poor Langston is tortured at school by the most evil kindergartner I can ever imagine existing.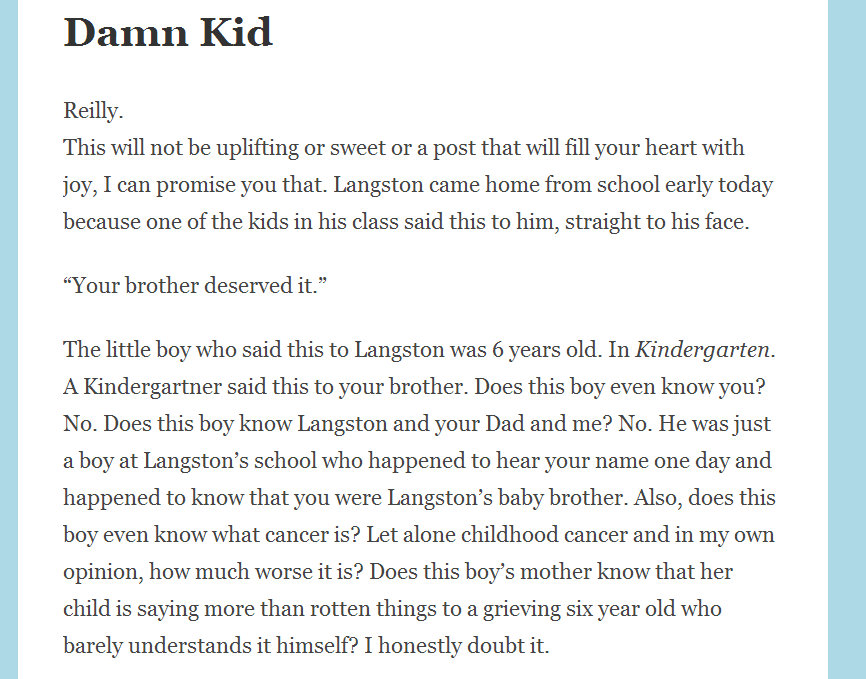 Then, the son of an extremely close friend of the Bowman family also dies of cancer.  His name is Noah, and his parents wrote a blog for him too.  The description of Noah's death is truly horrible.  He gets a nosebleed, passes out and dies on the way to the hospital.
One of the reasons many people in our group take issues with fake blogs is that they scare the heck out of real parents of cancer patients.  Imagine someone with a child, newly diagnosed, stumbling on the description of a death of a kid who doesn't even look sick.  Many of our group members are parents of children who had cancer and one shared with me the agony of googling for details on her son's disease and reading horror stories about patients who died from it.  The Remembering Reilly blog was one of the top results on Google for "CML in children."  The incorrect treatment regimen and description of the disease could have been very damaging to parents of real CML patients.
"Casey" also had a blog where she detailed Reilly's cancer struggles.  Supposedly these were written in a paper journal while Reilly was sick and transferred to a blog after his death.  You can read that here.
A lot of people might dismiss this as a creative writing project, a beautifully written blog that raised awareness for childhood cancer.  Unfortunately, "Casey" also reached out to moms of real life cancer patients and tried to befriend them.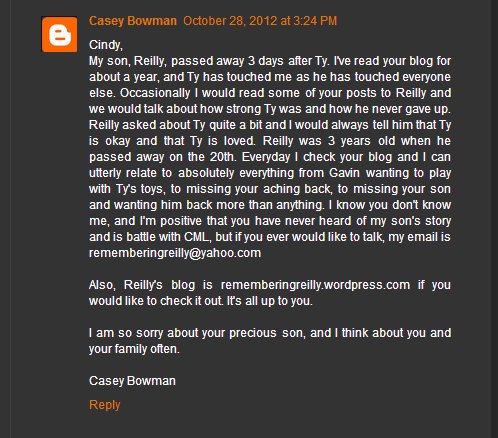 Cindy Campbell is the mom of the beautiful Ty Louis Campbell, a little boy who died of cancer at five years old.  Since Ty's death, Cindy and the Campbell family have started the Ty Louis Campbell Foundation to raise awareness for childhood cancer and to fund a cure.  She also has The Muddy Puddles Project where parents send in pictures of their kids playing in muddy puddles, an activity Ty loved, as a way of celebrating the joy of childhood.
Casey and Cindy emailed back and forth a few times and Cindy says she fell in love with Reilly and his family.  Cindy asked if she could post a tribute to Reilly on her site and Casey at first agreed and then changed her mind.  Cindy was absolutely devastated to hear that "Remembering Reilly" is a hoax.  The kinship that parents who have walked through these kinds of nightmares feel is a powerful bond, and I am sure Cindy feels betrayed.
The pictures of Reilly and his brother were taken from the blog and website of a professional photographer.  She's been notified about the situation and is understandably upset.
I've heard from the person who is behind this hoax.  She's a junior in high school and she says she started the blogs after hearing Taylor Swift's song Ronan.  That's becoming a common theme with fakers.  Anyway, she's very remorseful and we're going to stay in touch.  She is emailing Cindy Campbell an apology and will also apologize to the parents of the real "Reilly."  We've discussed why what she did was harmful and wrong, and I truly believe she is sorry.
We've decided not to post her name because of her age.  I'm hoping she takes our offer of help and talks to a professional about her compulsion to write these blogs.
Just for the record, in some articles we've seen claims that the person behind this blog raised money or sold t-shirts.  No funds were raised.  The writer did make a t-shirt template and took screen shots of it, but shirts were never actually for sale.
EDIT:  Cindy Campbell, who had some details of the story of her son's battle with cancer and his tragic death stolen and used as storylines on Remembering Reilly, posted this on her blog.
Cindy's spirit of forgiveness has been an inspiration to us.  If any reader is looking to donate to a worthy foundation, The Muddy Puddles Project has stolen our hearts.