Last night, Jason Taylor Martinez, rusty blood sufferer,  posted an update on his GoFundMe fundraiser page.
He also sent me a message claiming that he never said he had Medicaid and insisting that he has Medicare.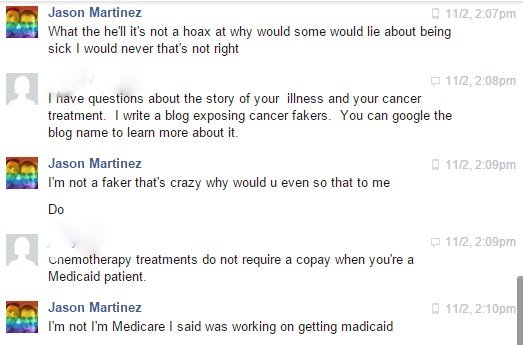 Two days ago, I specifically asked Jason why he didn't qualify for Medicare.  This was the answer I received.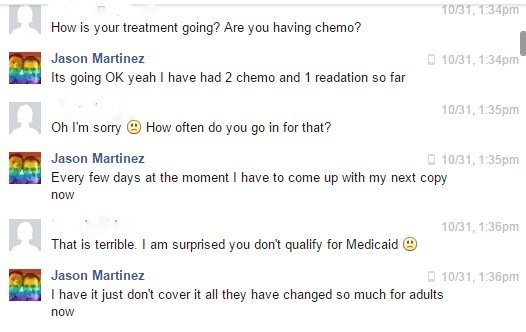 In the original text of his GoFundMe page, Julian claimed that Jason had no insurance at all.  This was pointed out in the comments of the 7000 member closed Facebook group that Julian made to call attention to Jason's plight.
Incidentally, even if Jason is on Medicare, there's no way he'd have a $2000 copay at each of his chemotherapy appointments.  At most, he'd be responsible for 20% of the costs of chemotherapy, and there are supplemental insurance programs that he'd be eligible to join where the costs not covered by Medicare would be covered.
Jason and Julian have seven Fundly pages set up to raise money for Jason's cancer treatment.  Granted, all of them have a goal of $45 total, so the sheer number of them might be an accident.
There is also a German language fundraiser set up for the couple, although it has no donors.
As of now, the GoFundMe fundraiser, which had been shared on Facebook over 15,000 times as of yesterday, is still active.  I'd encourage anyone who donated to the fundraiser to contact GoFundMe and voice your concerns.
Just in case it's deleted, here's a saved copy of the GoFundMe.  Here is a saved list of all the donors– note how many of them say how little they have but how much they feel compelled to help Jason and Julian.
Here's a copy of the couple's attempts to raise money for a car.
And here are screenshots of the Facebook group set up to raise awareness for their fundraisers.
A new collage was posted yesterday.